Solomon, through inspiration, offers a collection of wise sayings for people interested in living a life without regrets and unnecessary pain. He counsels: "Hear, my son, your father's instruction, and forsake not your mother's teaching, for they are a graceful garland for your head and pendants for your neck. My son, if sinners entice you, do not consent." Proverbs 1:8- 10 (ESV)
Parents are responsible for the guidance and moral instruction of their children, leading to a prodigious quality of life. When Solomon admonishes the disciple to hear, he is suggesting the need for taking heed to the counsel being given. Not only is the father to be listened to— but also the mother—whose teaching is from her faithfulness to the Word of God.
The theme for this year is Healthy Families for Eternity. This multifaceted notion can only become effective in the families of the church, as we train our children to live based on the teachings that God has provided since the beginning of time. Only by choosing to live faithfully will we be able to enjoy the kind of relational health that honors God, and at once prepares us for the coming of Jesus Christ.
The Family Ministries Planbook is an annual resource organized by the General Conference Family Ministries department with input from the world field to supply local churches around the world with resources for the special family emphases weeks and Sabbaths.
Christian Home and Marriage Week
Requisite for parents to be most influential in the relational and spiritual health of their children is that they enjoy a relatively healthy marriage. Should parents not be married to each other, having a robust and working relationship with the person they are co-parenting with, and a viable and intimate relationship with God are essentials for creating a place for healthy and dynamic discipleship to germinate.
Referencing the kind of atmosphere that makes for healthy relationships within the home and prepares a family for the coming of Jesus Christ, Ellen White states in The Adventist Home: "The sweetest type of heaven is a home where the Spirit of the Lord presides. If the will of God is fulfilled, the husband and wife will respect each other and cultivate love and confidence." (Chapter 1, p. 15).
It is our sincere desire that the families in our churches around the world will become centers of discipleship and hope. Where the fruit of the Spirit is the practice of each day—love, joy, peace, patience, kindness, goodness, faithfulness, gentleness, and self-control (Galatians 5:22-23a); as we trust God to keep us ready until the day He comes for us.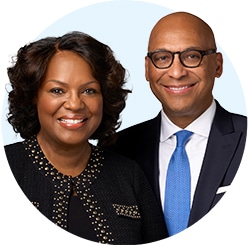 Willie and Elaine Oliver, Directors
Adventist Family Ministries
Seventh-day Adventist Church
World Headquarters
Download the 2016 Planbook in English
International Editions