English
Dear Church Leader:
Thank you for your interest in conducting a From This Day Forward event or process to help married couples grow stronger and healthier in their relationship with each other and with God, especially during COVID-19. This resource is meant to be an out-of-the-box helper for any serious ministry leader who has a passion to be used by the Spirit of God to be a catalyst for good.
In this resource packet you will find the following items to make presenting this event relatively easy:
Presentation Slides and Presenters' Notes
Participant Workbook (Each participant should get a workbook)
The Talking Totem Card (One per couple)
Our Marriage Covenant Certificate(One per couple)
Evaluation Sheet (One per participant).
While the name of the resource suggests that it is meant to be conducted in one day, it is flexible enough to also be presented as a series of five 30-minute presentations (or longer if you think appropriate). Of course, if you decide to present this material in one day, we suggest that you do so with 15-minute breaks between each presentation and a break for lunch; ending with a recommitment service after Session five, by using Our Marriage Covenant certificate for this exercise. Remember to have each participant complete and return a copy of the evaluation sheet to you at the end of each presentation/series. This will give you an idea of the impact the presentations made on the participants. This event can be presented on-line.
The presentation slides have been designed to allow the presenters to include a picture of their family. This will help convey to the participants that the facilitators are personally invested in fostering stronger and healthier relationships. From This Day Forward may be presented by an individual. However, the process tends to be more dynamic and compelling when it is presented by a married couple. You should also feel free to make slight adjustments to the presentation slides by custom-programming your slide transitions as well as the animation of your bullet points. We encourage you to use your own stories which will help make your presentation more dynamic and real.
Before presenting a From This Day Forward event or series, read the material thoroughly and become intimately acquainted with the content. Please also make this a matter of fervent prayer as you ask the Spirit of God to use you as an instrument of His peace to make a difference in the marriage of participating couples.
For stronger and healthier marriages,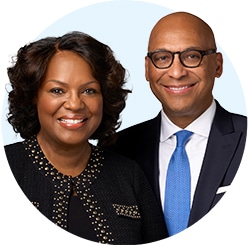 Willie and Elaine Oliver, Directors
Adventist Family Ministries
Seventh-day Adventist Church
World Headquarters
---
---
ESPAÑOL
Estimado líder de la iglesia:
Gracias por su interés en llevar a cabo De Hoy en Adelante como un evento o proceso para ayudar a las parejas casadas a fortalecerse y ser más saludables en su relación entre ellos y con Dios, especialmente durante Coronavirus 19. Este recurso está destinado a ser una ayuda inmediata para cualquier líder serio del ministerio que tenga pasión por ser utilizado por el Espíritu de Dios para ser un catalizador para el bien.
En este paquete de recursos, encontrará los siguientes elementos para facilitar la presentación de este evento:
1. Diapositivas de presentación y notas para los presentadores
2. Guía del participante (cada participante debe obtener una guía)
3. La tarjeta de Tótem Parlante (una por pareja)
4. Nuestro Convenio Matrimonial (uno por pareja)
5. Formulario de evaluación (uno por participante).
Si bien el nombre del recurso sugiere que está destinado a llevarse a cabo en un día, es lo suficientemente flexible como para presentarse como una serie de cinco presentaciones de 30 minutos (o más, si lo considera apropiado). Por supuesto, si decide presentar este material en un día, le sugerimos que lo haga con descansos de 15 minutos entre cada presentación y un descanso para el almuerzo; terminando con un servicio de compromiso después de la sesión cinco, mediante el uso del certificado Nuestro Convenio Matrimonial para este evento. Recuerde que cada participante debe completar y devolverle una copia del formulario de evaluación al final de cada presentación / serie. Esto le dará una idea del impacto que las presentaciones hicieron en los participantes. Este evento puede presentarse de manera virtual, en línea.
Las diapositivas de la presentación han sido diseñadas para permitir que los presentadores incluyan una foto de su familia. Esto ayudará a transmitir a los participantes que los facilitadores están personalmente interesados en fomentar relaciones más fuertes y saludables. De Hoy en Adelante puede ser presentado por un individuo. Sin embargo, el proceso tiende a ser más dinámico y convincente cuando lo presenta una pareja casada. También debe sentirse libre de hacer pequeños ajustes en las diapositivas de la presentación mediante la programación personalizada de sus transiciones de diapositivas, así como la animación de sus viñetas. Le recomendamos que use sus propias historias, lo que ayudará a que su presentación sea más dinámica y real.
Antes de presentar un evento o serie De Hoy en Adelante, lea el material detenidamente y familiarícese íntimamente con el contenido. Por favor, haga una oración ferviente al pedirle al Espíritu Santo que lo use como un instrumento de Su paz para marcar la diferencia en el matrimonio de las parejas participantes.
Por matrimonios más fuertes y saludables,
Willie y Elaine Oliver, Directores
Departamento de Ministerios de la Familia
Asociación General de la Iglesia Adventista del Séptimo Día