As many of you already know, the COVID-19 public health crisis has also become an emotional and spiritual challenge for countless individuals as well as marriage and family relationships around the world. This situation has provoked anxiety, stress, tension, grief and even spiritual uncertainty.
To help you intentionally use this time to build up your marriage and family relationships, Adventist Family Ministries has developed the COVID-19 Survival Guides for Marriage, Parenting, and Families. Each guide has more than 15 carefully selected messages about nurturing relationships, family worship, grief, safety in the home, hope and much more.
We recognize this unexpected upheaval has been very traumatic for many individuals and families. Perhaps God is giving us an opportunity to slow down and reconnect with our spouse and family, to take our relationship with Him more seriously, so we can have the kind of family relationships that bring glory and honor to His name.
The Bible states: "And those who know Your name will put their trust in You; For You, Lord, have not forsaken those who seek You." Psalm 9:10 NKJV
Therefore, now is the time to trust God to do the impossible by enabling us to have His mind so we can be patient and kind with each other as He is with us. Let us pray and determine to exhibit the fruit of the Spirit each day in our marriage and family relationships, so we may find peace and healing through the power of God and experience serendipitous blessings during and after this pandemic.
Grace and peace to you!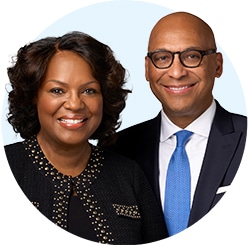 Willie and Elaine Oliver, Directors
Adventist Family Ministries
Seventh-day Adventist Church
World Headquarters
DOWNLOAD THE COVID-19
SURVIVAL GUIDE FOR…
---
DESCARGUE LA GUÍA DE
SUPERVIVENCIA COVID-19 PARA…
---
TÉLÉCHARGEZ LE GUÍA DE
GUIDE DE SURVIE COVID-19 POUR…
---
SCARICA LA COVID-19
SURVIVAL GUIDE PER…
---
BAIXE O COVID-19
SOBREVIVÊNCIA GUIA PARA…
---
СКАЧАТЬ РУКОВОДСТВО ПО ВЫЖИВАНИЮ
ВО ВРЕМЯ ПАНДЕМИИ COVID-19 ДЛЯ…
---