Elephants are known for being resilient. While the leading threat to African elephants is wildlife crime—mainly poaching for the illegal ivory trade—the greatest threat to Asian elephants is the loss of habitat, giving rise to human-elephant conflict for land space. Despite these distressing realities, elephants continue to be resilient, with the help of conservationists.
The Family Ministries Planbook is an annual resource organized by the General Conference Family Ministries department with input from the world field to supply local churches around the world with resources for the special family emphases weeks and Sabbaths.
Christian Home and
Marriage Week

Christian Marriage Day
on Sabbath, February 12.

Christian Home Day
on Sabbath, February 19.
Family Togetherness
Week of Prayer

Family Togetherness
Day of prayer
(for Marriages, Families and Relationships) on Sabbath, September 10.
When people endure difficult situations and bounce back despite the hardships they have experienced, that reality is also identified as resilience.
Dictionary.com defines resilience as: "the ability of a person to adjust to or recover readily from illness, adversity, major life changes, etc." Essentially, resilience is by definition buoyancy; which is defined as "lightness or resilience of spirit."
The global pandemic brought on by the virus identified as COVID-19 has brought tremendous physical, emotional and financial stress and distress to people around the world. Many thought that by now we would have left the pandemic in our rearview mirrors. Yet, as we write, the world has experienced almost two years of this plague that appears undiminished, despite the development of several vaccines to control its spread.
Ever since evil made its appearance in the Garden of Eden—when Adam and Eve ate of the fruit God told them to stay away from and sinned—humans have been challenged with constant dangers and threats.
Confronted with escalating problems and setbacks, the apostle Paul encourages the members of the church at Corinth by saying: "We are afflicted in every way, but not crushed; perplexed, but not driven to despair; persecuted, but not forsaken; struck down, but not destroyed" (2 Cor 4:8, 9 ESV). Fundamentally, a message about being resilient.
The theme for the 2022 Family Ministries Resource Book is Family Resilience. So, today we are calling on every pastor, every Family Ministries leader at every level, and every member of the church to take note of Paul's message of resilience. That as we focus on the primary mission of the church through the proclamation of The Three Angels' Messages—despite the attacks of the enemy—we will trust God for resilience in our families, as we do all we can to help hasten the coming of Jesus Christ.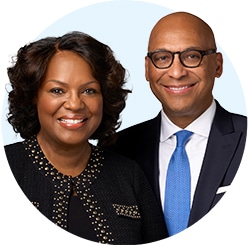 Willie and Elaine Oliver, Directors
Adventist Family Ministries
Seventh-day Adventist Church
World Headquarters
Download the 2022 Resource Book in English